The high price tag makes the cars less appealing to consumers. There are three major incentives in California: the State's Clean Vehicle Rebate, the Federal Tax Credit and the HOV Lane Access. Besides, the state is promoting hard to get charging infrastructure ready and sufficient for electric cars.  Also, out-of-state buyers may soon stop paying sales tax here (applies to cars manufactured in the state though, like Tesla).
Let us take a look at the Federal Tax Credit in this article. Other incentives and "perks" will be covered in Part 2.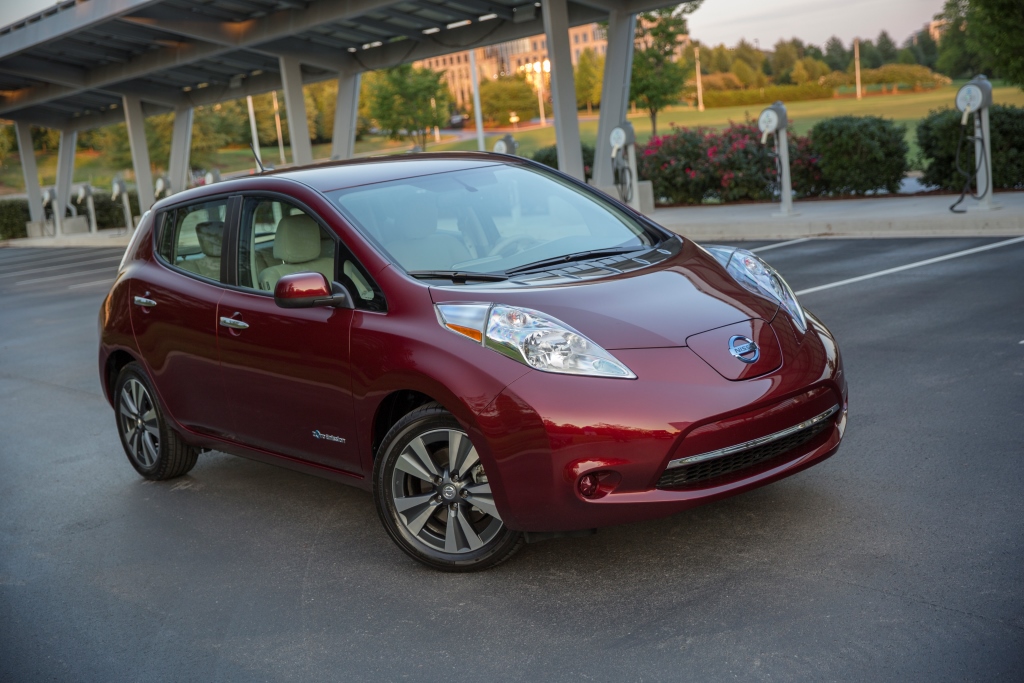 Federal Tax Credit. The original registered owner (and in case of leasing, the carmaker) can get up to $7,500 of federal tax credit for an all-electric car (EV, like a Nissan LEAF) or a plug-in hybrid electric car (PHEV, like a Chevy Volt).
The actual amount is related to the size of the battery in the car. According to IRS, the calculation looks like this: the base credit is $2,500; if the battery is 5 kWh, you can get $417 on top ($2,917 in total); if the battery is larger than 5 kWh, you can get another $417 for every kWh (partial kWh counts too) exceeding 5 kWh on top of the $2,917.
For example, if the battery is 6kWh (1kWh exceeding the 5 kWh threshold), you can get $3,334 in total ($2,500+$417+$417); If the battery is 10.5 kWh (5.5kWh exceeding the 5 kWh threshold), you can get $5,210 in total ($2,500+$417+$417*5.5). Moreover, if the battery is at 16 kWh or higher, the federal tax credit will be capped at $7,500.
A few notes:
Firstly, there is a list of 28 qualified carmakers, although it covers all major EV/PHEV manufacturers, on IRS website. Noticeably, Honda and Hyundai currently are not on the list. Honda had 2014 Accord PHEV before and Hyundai just launched 2016 Sonata PHEV (Federal tax credit is tbd, according to driveclean.ca.gov)
Secondly, there is a limit for each carmaker on the total number of qualifying cars. In brief, cumulative 200,000 in the US after 12/31/2009. The current sales numbers are roughly just half way. As one of the top-selling EVs, Nissan LEAF had sold about 88 thousand cumulatively in the US as of November last year.
Thirdly, the tax credit applies to only the federal portion of your tax liability, not to your total liability. You can reduce your federal tax liability dollar-for-dollar by using the tax credit. However, your tax liability cannot be reduced to below zero. Therefore, say the tax credit from buying an electric car is greater than your federal tax liability, you will only be able to use a part of the credit to bring the liability to zero.
Tax credits are different than tax deductions. Tax deductions reduce your taxable income. So you can end up paying less tax with tax credits than with same amount of tax deductions.
Fourthly, only the original registered owner of the car is eligible to the federal tax credit. In case of buying a new car, make sure you are the original owner, not the dealer. In case of leasing a new car, the carmaker is the original owner and they get to claim the tax credit. Usually the lease price will be lowered as a result. In case of buying a used car, no tax credit eligibility anymore, even if the original owner did not claim the credit.
In summary, if you take into consideration this Federal Tax Credit and the state's Clean Vehicle Rebate (will be discussed in Part 2), you can end up paying (much) less for an electric car. For example, 2016 Chevy Volt PHEV has an MSRP of $33,995, but you can get $9,000 off ($7,500 federal tax credit and $1,500 state rebate). Then the price will be around $25k. As another example, 2016 Ford Focus all-electric car, MSPR is $29,170, but you are eligible for $7,500 tax credit and another $2,500 state rebate. So the out-of-the-pocket price can be below $20k. There are incentive details on more cars on DriveClean.ca.gov. Also please check out our homepage for date on electo-range and fast charging of electric cars.